Looking for delicious chicken dinner recipes? You've come to the right place! I've put together a collection of 26 irresistible recipes that include oven-roasted and comforting options. There's something for everyone to savor and enjoy!
Chinese Lemon Chicken
This easy Chinese lemon chicken recipe has an incredibly flavorful crispy batter and is tossed with a perfectly balanced sweet and tangy, sticky lemon sauce. A classic Asian takeout dish you can easily make at home!
Get the Recipe: Chinese Lemon Chicken recipe
Vietnamese Lemongrass Chicken
This Grilled Vietnamese Lemongrass Chicken recipe is incredibly quick and easy to prepare, loaded with flavor from the lemongrass chicken marinade and grilled to perfection to give you a delicious sweet and savory, juicy grilled chicken that can be served in many different ways.
Get the Recipe:  Vietnamese Lemongrass Chicken Recipe
Chicken Satay with Peanut Sauce
An easy chicken satay recipe marinated in coconut cream, curry powder, and spices and grilled over an open flame, and brushed with a light coconut cream glaze.  Served with a simple and easy-to-make peanut sauce!
Get the Recipe:Chicken Satay recipe
Oven Roasted Five Spice Peking Chicken
This Chinese five-spice chicken is marinated overnight in five spice, ginger, garlic, and soy sauce and then baked in the oven and glazed to get that delicious-looking skin. It's full-on flavor and pairs amazingly with a ginger scallion sauce. If you're looking for a very flavorful roasted chicken, you definitely need to try this one.
Get the recipe: Oven Roasted Five Spice Chicken recipe
Grilled Thai Coconut Chicken Skewers
Smoky grilled chicken skewers recipe marinated in ginger, garlic, coconut cream, and soy sauce. Then finished with a sweet coconut cream glaze and served with a simple peanut sauce. Big on flavor and super easy to throw together!
Get the recipe: Grilled Thai Coconut Chicken Skewers recipe 
Thai Basil Chicken (Pad Krapow Gai)
Thai Basil Chicken is a delicious and simple Thai dish made with diced or ground chicken, yardlong beans (or green beans), and lots of fresh Thai basil tossed in a savory umami sauce. If you're looking for a quick weeknight dinner, this would be it! You can have this ready from start to finish in about 15 minutes if you're using ground chicken, and your taste buds will love you for it!
Get the recipe: Thai Basil Chicken (Pad Krapow)
Sweet and Sour Chicken
If you're a fan of sweet and sour pork, then you should definitely try sweet and sour chicken. If you're wondering what the difference is, the batter is lighter with fewer aromatics, so it is a lighter version that brings out the flavor of the sweet and sour sauce more.
Get the recipe: Sweet and Sour Chicken recipe
Honey Sriracha Chicken
A super easy, 6-ingredient, sweet and spicy honey sriracha chicken recipe that's sweetened with a sticky honey sriracha glaze! Grilling and oven-roasted instructions are included!
Get the Recipe: Honey Sriracha Chicken recipe
Three Cup Chicken
A quick and easy, incredibly flavorful one-pot three cup chicken recipe (Taiwanese San Bei Ji), loaded with garlic and ginger and braised in a sweet soy sauce which caramelizes into a very syrupy sauce that goes amazing with rice!
Get the recipe: Three Cup Chicken recipe
Chilli Chicken
A popular and delicious Hakka, Indian Chinese takeout dish, dry chilli chicken is made with crispy chicken chunks and lightly tossed in a spicy chilli sauce. Packed full of amazing flavors from both worlds.
Get the recipe: Chilli Chicken recipe
French Mustard Chicken
Prepare to fall madly in love with this Creamy Dreamy Mustard Chicken Recipe. Classic French dish that tastes outstanding. Get the recipe.
Spanish Chicken And Rice
Bursting with flavor, juicy, hearty, and comforting, this Spanish Chicken And Rice makes a delicious one-pot recipe for the whole family. Perfect for a weeknight or Sunday dinner. Get the recipe.
Pumpkin Chicken Curry
Pumpkin Chicken Curry is juicy, tender chicken breasts cut into bite-size pieces and simmered in a flavorful and creamy canned pumpkin sauce. This easy and quick one-skillet recipe is bursting with flavor and is perfect for a cozy autumn meal. Get the recipe.
Creamy Honey Mustard Chicken
Decadent and delicious, this Stovetop Creamy Honey Mustard Chicken skillet meal is just 30 minutes away. Filled with rich flavors and made in one pan, this simple and easy recipe is sure to be your new fave. And the creamy honey mustard cream sauce is amazing on rice, potatoes, and roasted veggies, too! Get the recipe.
Chicken Mushroom Stroganoff
This Chicken Mushroom Stroganoff is a creamy, savory, luxurious dinner inspired by delicious Eastern European cuisine and it's ready to eat in just half an hour! You simply can't beat this easy stroganoff recipe for a one-skillet, thirty-minute dinner when you're ready for a satisfying, comforting meal that doesn't involve slaving in the kitchen all afternoon. Get the recipe.
Gluten Free Kung Pao Chicken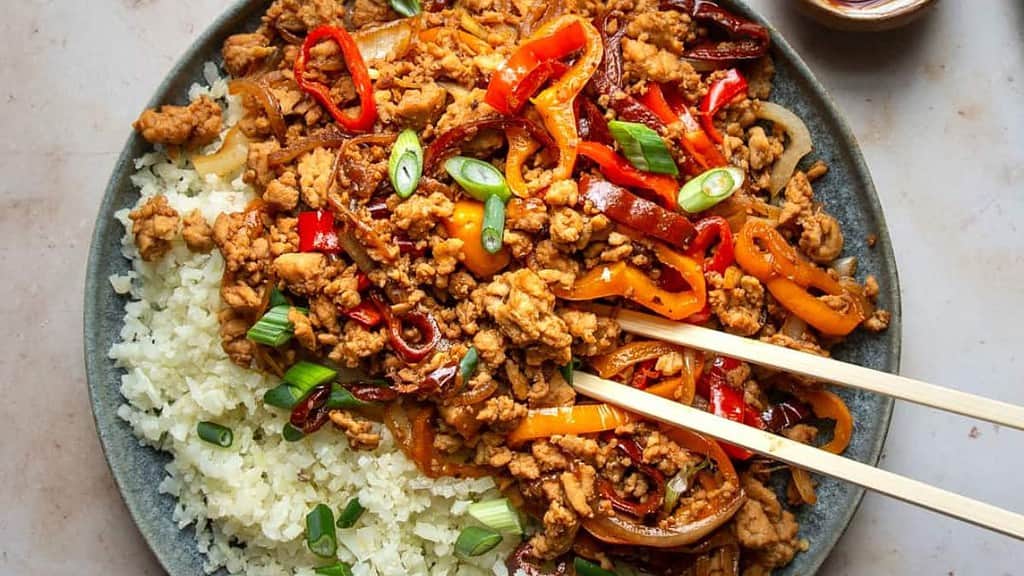 Bursting with flavor and beyond easy to make, this Gluten-Free Kung Pao Chicken is a healthier twist on your favorite take-out dish. The perfect combination of salty and sweet, this savory recipe is sure to become your new weeknight staple.
Instant Pot Chicken Teriyaki Recipe
Instant Pot Chicken Teriyaki thighs are the easiest weeknight recipe ever. The teriyaki sauce is easily made with only a few ingredients and it is gluten free. Quick and easy instant pot pressure cooker dinners are the best!
Sheet Pan Chicken and Brussel Sprouts
Here is a no-brainer winner of a chicken dinner that will please even the pickiest eaters in your house. It's also a great way to get your family to eat more vegetables. Try this Sheet Pan Chicken with Brussels Sprouts.
Cauliflower Chicken Fried Rice
If you are trying to eat low-carb, you'll love this Chicken Fried Cauliflower Rice. It's full of veggies and Asian flavor, plus low carb!
Skillet Cranberry Leek Chicken
This Skillet Cranberry Leek Chicken is a fun and festive holiday dinner. The tart and sweet sauce makes the perfect pairing with sauteed chicken breasts.
Creamy Chicken Alfredo and Spinach Casserole
What can be more comforting than eating a warm, cheesy, chicken Alfredo pasta dish, with an oh-so creamy sauce? Whether you use a store bought jar of Alfredo sauce or make it homemade, this baked pasta casserole chicken dinner is an easy and delicious crowd pleaser.
Crispy Air Fryer Chicken Wings
These chicken wings in the air fryer turn out so crispy and I don't mean to sound cliché – but finger licking good! Add baking powder before putting them in the air fryer and you will achieve juicy tender wings that are crispy on the outside.
Cheesy Chicken Quesadillas
This is a perfect meal for a busy weekday. Use store bought rotisserie chicken and other premade ingredients to make this delicious chicken quesadillas meal in a snap.
Sheet Pan Plum Roasted Chicken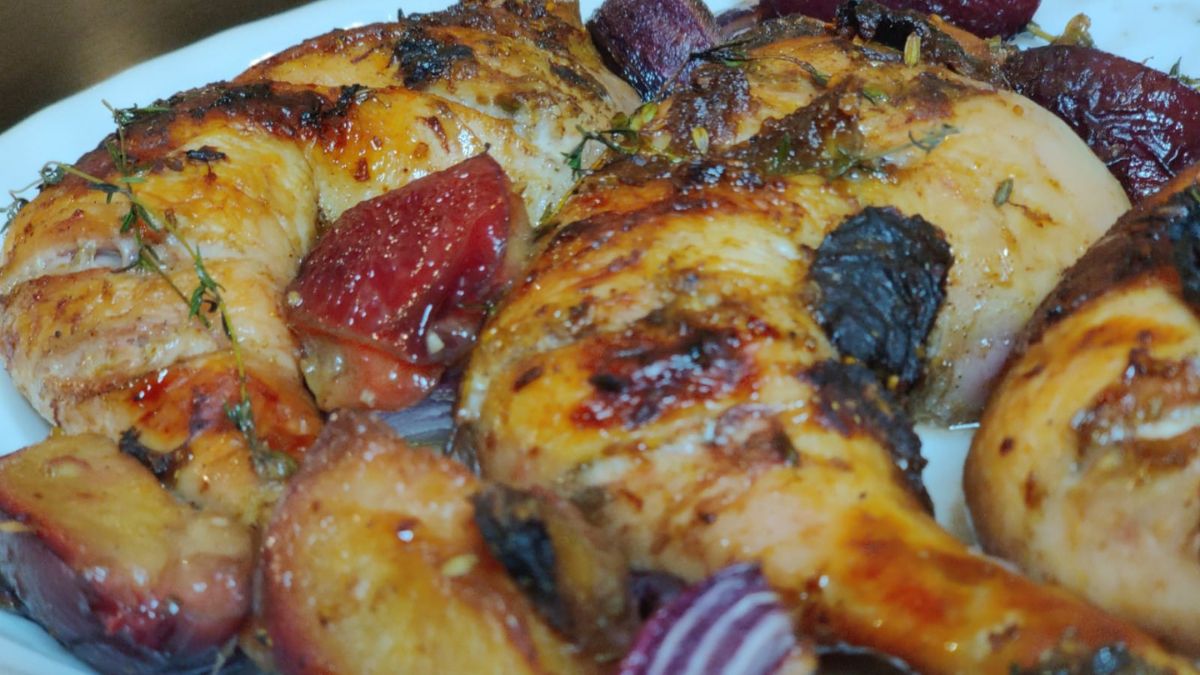 This sheet pan recipe is a beautiful blend of sweet plums and soft red onions with roasted chicken. To make this a complete one pan meal, toss in some Brussels sprouts or other vegetables and your dinner is ready in 45 minutes or less. For best results, marinate the chicken the night before.
Chicken Mulligatawny Soup
Chicken Mulligatawny Soup is a popular soup that originated in Indian cuisine and has since become a favorite in many parts of the world. It's a hearty and flavorful soup made with spices, vegetables, and chicken. The soup typically includes ingredients like curry powder, garlic, and coconut milk, which gives it a unique taste and aroma. This soup is delicious and nutritious.
Poulet Yassa
Poulet Yassa is a Senegalese dish made of chicken that has been marinated in a mixture of garlic, lemon juice, dijon mustard, and spices. It has become very popular throughout West Africa and in other parts of the world.
Get the Recipe: Poulet Yassa Recipe
More From Pups with Chopsticks - 10 Asian Grilled Recipes That Will Make Your Summer BBQs Unforgettable
Whether you are looking for a simple burger or a fun meat-on-sticks recipe to serve at your next get-together, here is a list of fantastic Asian grilled recipes you can (and should!) try the next time you fire up your grill.
10 Asian Grilled Recipes You Need to Try
7 Vietnamese Recipes You Must Try and Can Make at Home
Popular Asian cuisines like Chinese, Thai, and Japanese food always seem to take the spotlight, but did you know that Vietnamese food is just as spectacular and flavorful? Here is a list of delicious Vietnamese recipes to give you a taste of Vietnam and introduce you to the hidden gem of cuisine they truly are.
7 Vietnamese Recipes You Must Try and Can Make at Home
14 Chinese Takeout Recipes You Can Make at Home to Save Money
If you're craving Chinese takeout, look no further! Here are 14 Chinese takeout recipes you can make in the comfort of your home in your PJs!
14 Chinese Take Recipes You Can Make at Home
30 Comfort Food Recipes to get Cozy to
I'm a really big fan of comfort food from all parts of the world. Some of these recipes from this list will be comforting from nostalgia, some will be warm and cozy, and some will just flat-out give you that comfort food kick like fried chicken! Yum! Hope you enjoy this list!
30 Comfort Food Recipes to Get Cozy to
11 Asian Beef Recipes We Can't Get Enough Of
From deep-fried to braised, beef is always delicious no matter how you prepare it, but if you're looking for something with an Asian twist here is a list of beef recipes we make at home and can't get enough of.
11 Delicious Asian Beef Recipes You Must Try at Home
This article originally appeared on Pups with Chopsticks.